Welding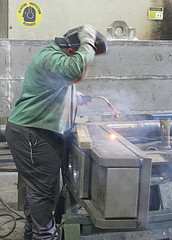 When Republic Industries International started in 1911, we were known as Republic Welding. Today our foundation is still based on our diverse welding knowledge and numerous welding processes. We currently incorporate arc, MIG, TIG, sub arc, flood and brazing.
Republic Industries has developed and proven many specialty welding procedures, such as:
Tool steels
Forged steel plates
Dissimilar overlays
Pre-hardened alloys
Cast iron
Regardless of the obscurity or complexity of your weld requirements, chances are Republic Industries has a welding process to match. Republic also utilizes a full-time inspector who will Ultrasound Test welds to ensure integrity of repairs.